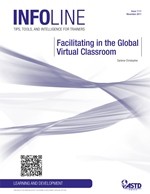 As the number of organizations with a global footprint continues to grow, the training function in an organization must keep pace with this trend by offering training solutions designed for global audiences.  To reach global audiences efficiently, many organizations offer training delivered in a virtual classroom using web conferencing technology.
Successfully delivering training in the global virtual classroom requires more than simply placing your slides from an in-person training into your virtual classroom tool, as many have learned the hard way. Both the course materials and facilitation techniques must be adjusted for delivery in the global virtual classroom. The importance of making adjustments applies to those who regularly facilitate in-person training with for global audiences and are asked to facilitate that same training in a virtual classroom, as well as those who regularly facilitate in a virtual classroom for national audiences and want to add international participants to that mix.
I recently wrote an Infoline on Facilitating in the Global Virtual Classroom, published by ASTD Press, to explain best practices for facilitators and instructional designers who deliver or plan to deliver training in a global virtual classroom. The Infoline describes how to adjust your delivery style, language and content for the global virtual classroom.  It also includes ideas on how to keep participants' attention, work with a producer, techniques for rehearsing and dealing with global logistics.  The Infoline is based on years of experience of facilitating in the global virtual classroom and it includes tips on what I wish I had known when I was new to this area.  If you find the content helpful or would like to share something that I missed, I'd enjoy hearing your feedback.